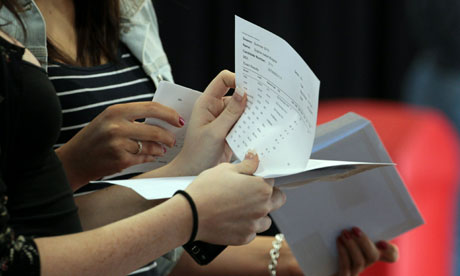 It was a fateful day like any other normal weekday but with a twist. It was the #BoardResultsDay of 2010! I woke up, went to the bathroom when my phone rang. "Hey the results are out!". I was like you in that moment. A bit nervous, a bit scared. I was a good learner but somehow, I wasn't the cut to be on the top. I scored a 34 in Mathematics and a 95 in English!
(See, I said it! It was easy! ;p).
The two most extreme moments of my life. I was scared of my father of how will he react..at the same time..secretly happy for my 95. It was a confusing moment. So I took up the courage to give him a call and spit out the fear. Nothing happened as per my expectations. I was wondering a great gala of scoldings, many taunting reverts but strangely, nothing happened. He listened to my scores and hung up. Since he said nothing, I had a pretty much of a jolly time that day. My overall percentage wasn't even in the 70s. I was a science student but I knew engineering wasn't my cup of tea. However, fact was, apart from knowing this, I was unaware of what do I want to do next? English Honors? Uhm....maybe...certainly. Because that's what I was good at. Right? I thought so.
The DU cut-offs were high mayn! It was the first year of CATE and frankly, I don't even remember my scores today. Seems like I have an Alzheimers for mathematics and some numbers. I got a chance to enter Gargi with Physics Honors and even in the evening shift of a college in South Campus. But "jis gali jaana nhn, wahan jhaank-kar kya fayeda?". Since it wasn't how I wanted my life to be, I didn't choose any of the options. I'm glad. Had to bid goodbye to the great Delhi University.
I was..like you are right now. I was sad, I was troubled, my father didn't talk to me for years, my math scores were terrible, I attempted to harm myself and I practically did everything in my reach to come out of the "average" tag! Alas! I couldn't. Nothing changed in that time.
At last, on my birthday, a month later of the results, I got into Mass Communication. I was told to prove myself since my parents had to spend a fortune in my college fees. It was like a challenge I wanted to win. So, I topped 4 out of the 6 semesters and came second in one. Funnily, I even got debarred in one semester due to low attendance. Haha. Yet cleared all my exams and flew to the top again! I even topped my university twice in three years.
When I look back at all the fights I was a part of, all the times I thought nothing was worth it, and not to forget - having no one to hold my hand; I feel everything again and wonder- "Oh, how far have I come, yet I am still an average girl!". Yet, in spite of all the wrong things that I did or things which just happened on their own-
"I couldn't be more happier anywhere than where I am today!"
Today, I sit with the tag of an Editor in a reputed organization and I am happy, really happy. So just don't worry, everything that happens, happens for good! You may be dumb, you be a failure like me at some point of life. But you are the best of yourself. You tried your best, you gave your best and that's the process of growing up. I am proud of you and everyone who know they aren't too good to be a prodigy! And you will find a way out!
And one of the biggest reasons I wrote this is to tell you that your family loves you. No matter how harsh Dads and Moms are, people like us, the average ones, are also loved by some people around us. And in my case, I even have an added advantage, I've found the one who appreciates me for who I am. Loves me for who I am. I am glad I am alive. And I don't give a shit to the ghost of my board results :D
Best things happen at the right time fellas!! Just cling to that thought. xoxoxo
All the Best for the results,
Diary Dear!!